Laser Dentistry: State-of-the-art
In a day and age where our lives tend to bleed over into social media and stay on the internet, it isn't uncommon to want to improve or elevate our image to keep up. Laser Dentistry teeth whitening is a simple and easy way to boost confidence and enhance your look. We all know that bright white movie star grins and how alluring it is.
Now imagine an effortless, affordable way to achieve that dazzling smile. We're not talking about overpriced drugstore whitening strips that may or may not work. This new laser technology can whiten your teeth in 8 shades in one treatment. Whitening procedures have come a long way in modern dentistry, but how exactly is Zoom Teeth Whitening different?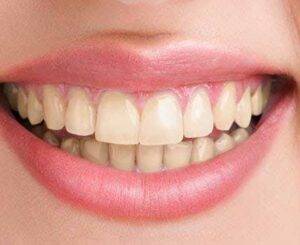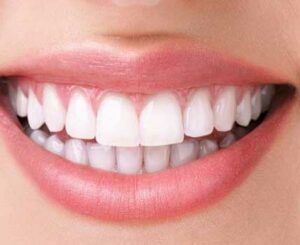 Methods
Before we delve into the advanced process of this new laser dentistry, let's take a step back. We'll look into how other methods of teeth whitening work and why they are different. Hands-on, at-home whitening systems range from toothpaste, rinses, gum, strips, and several types of gels. Often these are expensive in comparison to results. They can cause tooth sensitivity and demineralization, resulting in uneven discoloration. Most of these methods rely on repeated applications of carbamide or hydrogen peroxide-based products, in varying percentages, to act as the bleaching agent.
Hydrogen peroxide is an effective ingredient but can irritate the mouth and gums if used too frequently or incorrectly. Alternatively, the product is too low of a percentage to produce results. Other products tout activated charcoal and baking soda as effective teeth whiteners. Charcoal, while a fun experiment, does not affect teeth whitening. Baking soda has some teeth whitening power, but its abrasive nature can erode your teeth.
At-home treatments depend on these products' frequent use to remove stains and slowly brighten your teeth. This method often becomes ineffective due to diet or forgetfulness. It has a cost vs. reward and produces an uneven result. It can also cause too much tooth and gum sensitivity. The last thing we want when trying to boost our confidence is another problem getting in the way. Now we've talked about alternative at-home methods, but what exactly is Zoom Teeth Whitening, and how does it differ?
Zoom vs. Traditional Laser
There are currently two in-office treatments for teeth whitening: Philips Zoom QuickPro and Philips Zoom WhiteSpeed. The differences between the two treatments come down to speed, efficacy, appointment time, and cost.
Philips Zoom QuickPro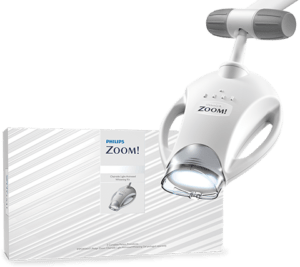 This is the more affordable option of the two. This version requires a much shorter appointment and brightens up to 4 shades in one session. Your dentist will apply a 20% hydrogen peroxide whitening varnish to each tooth before covering them with a quick-drying sealant. This process takes around 10 minutes, and you're free to go!
Finish off this treatment by wiping or brushing the varnish off 30 minutes later for your four shades lighter smile. QuickPro is recommended for those who want to touch up their mildly stained teeth or have never had a teeth whitening treatment before. This version is easy to tack onto the end of a typical dentist visit or as a stand-alone appointment. It can also be combined with other at-home Philips Zoom whitening products.
WhiteSpeed Laser
The following method is a step up from QuickPro. Philips Zoom WhiteSpeed is precisely as it sounds and offers a much faster result. It can lift up to 8 shades in just one 45-minute session. This method works by applying Zoom LED-activated whitening gel. This gel contains amorphous calcium phosphate or ACP, reducing tooth sensitivity and protecting enamel. After this gel is used, you will receive three back-to-back 15-minute sessions with a photochemical, blue LED laser.
The benefit of this style means it is entirely customizable to your preferences and comfort. This laser has numerous settings, ensuring you never experience discomfort or sensitivity during your sessions. If you like how your smile looks after just two or would prefer a fourth 15-minute round, that is entirely up to you. Lastly, a set of whitening trays are included in this package for at-home touch-ups at no extra cost. Philips Zoom WhiteSpeed is best suited for those with intense staining or who want a brilliant white smile.
Are Laser Dentistry treatments new?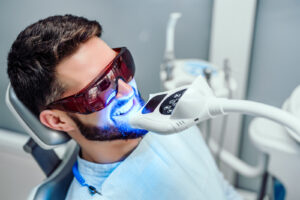 Laser treatments have been around for a while, so how exactly does Zoom Teeth Whitening differ, and why is it better? Traditional methods of infrared laser whitening involve applying a bleaching gel to your teeth and a barrier to cover your gums. The technician then directs a laser with a narrow light beam at each tooth. Heat is directed at the gel, causing a chemical reaction that breaks down stains.
Each tooth must be done one at a time and, therefore, will take longer than a Zoom treatment that targets all of your teeth at once. Since this method is photothermal (uses heat), there is a higher chance of discomfort and tooth sensitivity and a risk of damaging the internal workings of your teeth.
Zoom treatments are much safer for enamel, and 98% of patients report no increase in sensitivity. Preserving your enamel is incredibly important as it protects your teeth from damage, staining, erosion, and sensitivity. Without enamel, teeth become jagged or bumpy, easily stained, painful, and more susceptible to infection. Enamel doesn't grow back.
I'm not sure if I have good enamel. Can I still whiten my teeth?
While most people are often good candidates for teeth whitening, some patients may want to wait to get treatment. Patients with cavities and tooth decay will likely be advised to treat these issues before getting a whitening treatment, as whitening is ineffective against brown or gray-colored teeth and may cause pain.
Those with gum recession, periodontal disease, fillings, exposed roots, are allergic to whitening agents, are pregnant or breastfeeding. Patients under 16 are likely ineligible or may need a specialized plan.
Dental crowns or implants will also be ineligible for a whitening treatment since the materials used in artificial teeth are immune to whitening. Even in the case of a single crown or implant, the results would be visibly inconsistent. In this case, you may want to look into bonding or veneers.
How long does Laser Dentistry last?
As with all teeth whitening, the maintenance of your teeth mainly falls into your own hands. The length of your bright white smile after your treatment depends on the level of lift you decide to go with. If you choose Philips Zoom WhiteSpeed, your results can last up to 24 months. If you frequently indulge in dark sodas, coffee, or red wine or are a smoker, your results may only last up to 15 months.
Regular brushing with whitening toothpaste, using mouthwash, or abstaining from common staining foods will ensure that your smile retains its brilliance. Supplemental at-home kits can also benefit you in maintaining your teeth and are often recommended as upkeep after treatment.
Summary
Philips Zoom Teeth Whitening is a highly effective, relatively affordable treatment. It can help transform your smile into something you can proudly show off. Confidence can improve many aspects of life, and everyone deserves a perfect smile. If you feel you could benefit from any of the treatments mentioned above, don't hesitate to contact us for a consultation. We can help ensure you get the best treatment method for you and your unique smile.
Dental insurance doesn't cover teeth whitening. However, Zoom Teeth Whitening treatments are very affordable. If You are concerned about pricing, several other more affordable Philips Zoom Whitening products may be right for you. We'll work with you and offer discounts and payment options.
Teeth Cleaning
Ask us about having your teeth perfectly cleaned!
FREE Checkup!
Ask about a complete free checkup!